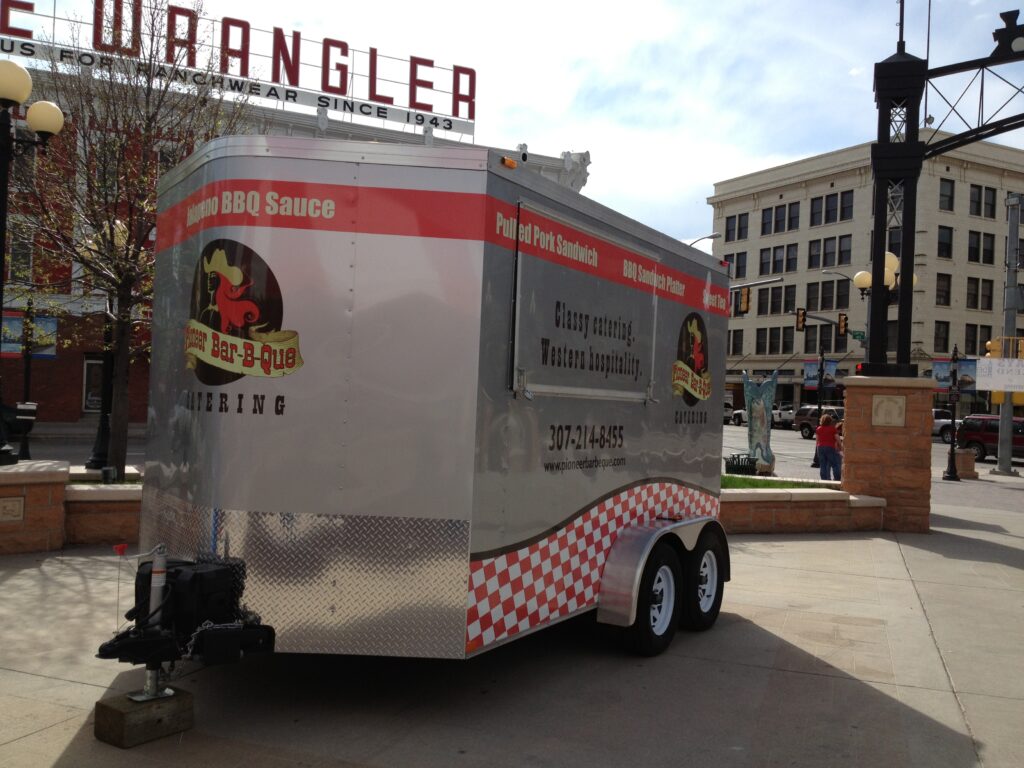 Pioneer Bar-B-Que, Inc.
We are your hometown catering company. We opened in Cheyenne in 2004 as a walk-up sandwich stand near Lions Park, and soon began a catering service for local businesses and individuals. Featuring top quality smoked meats, delicious sides, drinks, desserts, and a professional, well-dressed, and friendly staff, we will make you feel like a guest at your own event. we pride ourselves on our efficiency and hospitality so when you need a caterer that will go above expectations where your crew
For all your Wedding, Corporate, or Gathering needs, Let us Cater to you.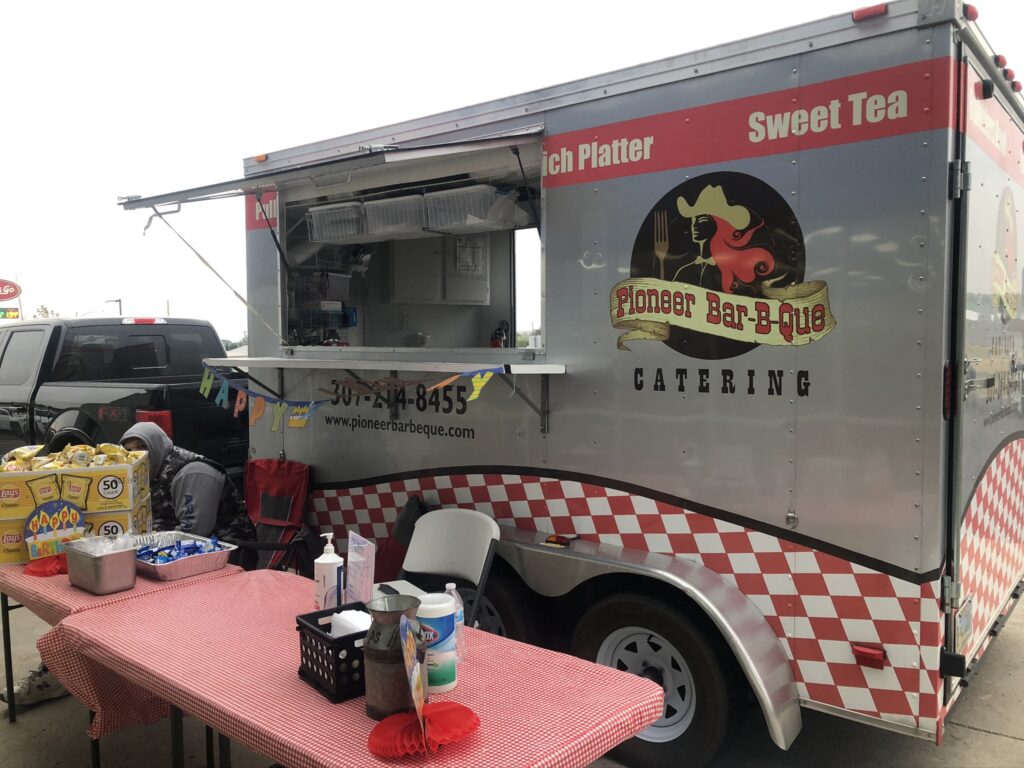 Testimonials
"Thank you for providing such a wonderful lunch for our group and the State legislators .It was very tasty! I truly enjoyed working with you and look forward to the next opportunity to do so again. You display true professionalism and outstanding customer service. Thanks so much,"
Leadership Wyoming
"I just wanted to thank you for such a wonderful job you and your staff did at my wedding! I know the mac n cheese was a hit with the kids…..Your staff was very professional, and everything was so nice, from the wrapped napkins to the nice beverage containers to your matching uniforms. Definitely classy catering! Also, you were very helpful and easy to work with. We were really able to personalize our event. Thank you so much, I will contact you for catering if I ever have another large party:-)"
Gayle Rhodes
(formerly Sparks)
"Your food and service was 2nd to none. Very clean, very delicious and plenty of extra. When you travel 2 hours set up and serve, and food is hot and moist…that's professional! Thank you so very much."
Kelli Roberts
"Pioneer Barbecue did an outstanding job catering the rehearsal dinner for my son's wedding. The quality of the food was amazing and the professionalism of the staff made the event a success. Pioneer BBQ made the planning easy and presented several custom options at the wedding couple's request. The caterers showed up on time and were well prepared for the large group. My expectations were clearly exceeded by pioneer barbecue. They are highly recommended!"
Dr Dan Perala
"what an awesome job for our rehearsal dinner! The food was fabulous and everyone enjoyed it as we didn't have very much left over. Thanks again for customizing our meal and making a wonderful beginning to the wedding weekend"
Laurie Wassenburger, Lusk, WY
"Everyone who attended had a great time and were treated to a delicious buffet of bbq brisket, smoked pulled chicken, beans, pasta salad, and apple cobbler, provided by Pioneer Bar-B-Que Catering."
First Cheyenne Credit Union
"The food was great everyone was very happy! There were plenty of sides though. These are all men out here and they eat a lot of meat! I will definitely keep you in mind for our next lunch in."
Colorado Interstate Gas Co. Carr, CO
"Thank you so much for everything on Friday. Everyone loves your food and the event was so successful thank to you. My sincere appreciation for all of you hard work and that of your crew. Kind regards"
Karmen Rossi
Wyoming Arts Alliance
"I heard lunch was delicious! It's good to have a catering option in Cheyenne. Our regional corporate office is in Denver, Co and I place lunch orders wherever we have meetings. It's good to know I can count on Pioneer BBQ for our office lunches."
Eva Kreil
Executive Asst., Airgas USA, LLC
" catered our daughter's wedding two weeks ago. They were wonderful to work with before and during the wedding. I greatly appreciated their flexibility on the day of due to rain and rearrangement of the ceremony location….they rolled with it and waited patiently to start their set up until the ceremony was over. Their crew was friendly, helpful and polite. The food was delicious, many guests also commented so, and the prices are great. We highly recommend them for your catering needs!"
Carol Rebscher
The BBQ was delicious! It worked perfectly for our party. Everyone raved over the pulled pork especially – tender and flavorful. We even had some left over for the next day. The sweet & spicy sauce was my favorite. Thank you for figuring out a menu & budget that would work for us!
Robin G.
Pioneer Bar-B-Que is fabulous to do business with. Whenever we need to provide a lunch or dinner to our members, cleanliness, quality food, and atmosphere are very important. With Pioneer Bar-B-Que, you don't have to worry about a thing, they take care of everything and make it look like you did all the work. Thank you, Pioneer Bar-B-Que"
Michele Bolkovatz
Marketing Mgr. Warren Federal Credit Union
"Just a quick note to thank you for the wonderful food you provided for the BBQ luncheons for our construction team. We consistently have rave reviews from everyone, especially about the sauce and flavorful meats. I must also thank you for jumping in without hesitation at my last minute request! We will definitely see you in the upcoming year."
Grace Abbott
GHPhipps